Since our original blog post on the travel restrictions applicable to visitors to The Turks and Caicos Islands much has changed and the situation has been updated to make the process clearer and assist potential visitors to understand the travel requirements.
The Turks and Caicos Tourism website now has the full TCI Assured program online. This portal allows visitors to the islands to clarify the travel requirements for arrival. The system allows visitors to upload the documents relating to the required COVID-19 PCR test results and information on the medical travel insurance policies needed. Both of these are required.
To summarize the requirements:
All persons 10 years of age and above are required to take a PCR test for COVID-19 ( antibody and antigen tests are not permissible).
The test must be taken within 5 days of arrival in Turks and Caicos.
Visitors must have an approved travel medical insurance policy which covers visitors if the contract COVID-19 during their stay and also provides for a medical evacuation from the islands if this occurs.
Visitors must submit documentation on the Turks and Caicos Tourism website and have an approval document ( TCI Assured sticker) provided once the documents have been reviewed. The official authorization is need in order to board a plane to travel to TCI.
The portal can be found by clicking here to access the Turks and Caicos Tourism website.
The site includes a pop up that allows visitors to apply for the necessary documents to travel to the Islands. It also features resource links that direct the user to a testing site directory search site which enables them to search for an accredited testing facility that can supply the correct type of test as specified in the travel requirements.
There is also a link to a list of TCI approved insurance companies which can supply the correct level of medical travel insurance as required by the TCI government.
The Tourism Facebook page also added this image to assist visitors with timings for the tests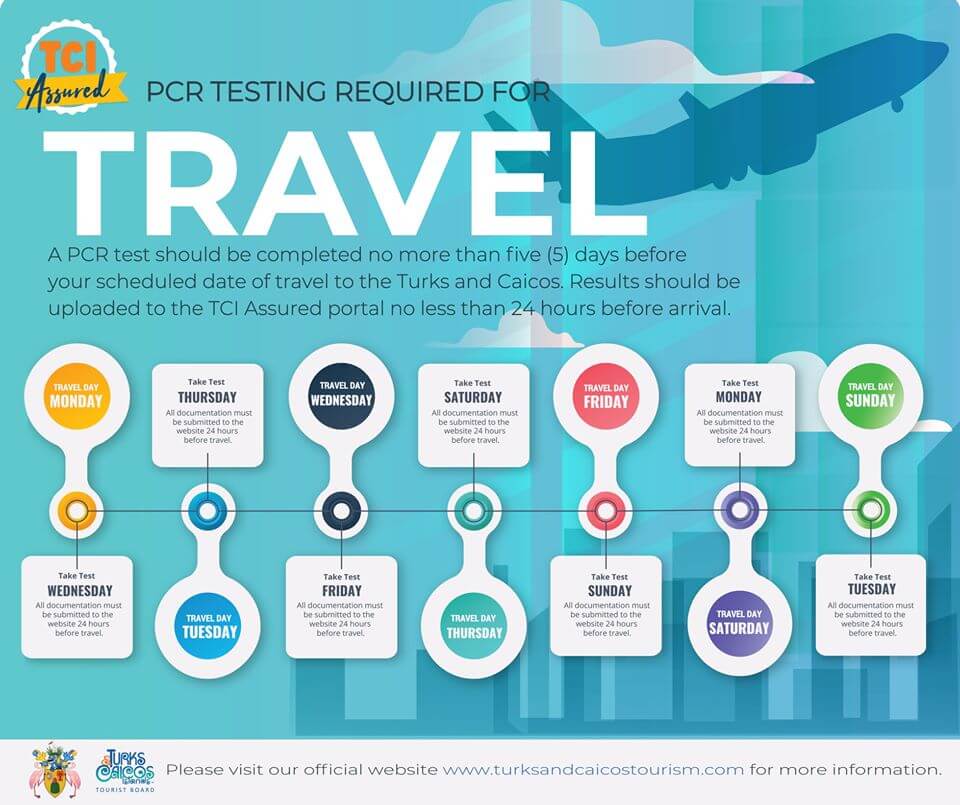 PLEASE CHECK WITH THE OFFICIAL AUTHORITIES TO CONFIRM DETAILS PRIOR TO TRAVEL.