Visitors wondering where they can eat out in Providenciales. Turks and Caicos have plenty of choices. For those who would like to experience the flavours and the ambiance of the islands this guide recaps some of most popular dine-in restaurants. Most are gathered closer to the main tourist areas along the north side of the island from Turtle Cove up to Leeward. A few of them with a more local flavour are in the southern area towards Chalk Sound.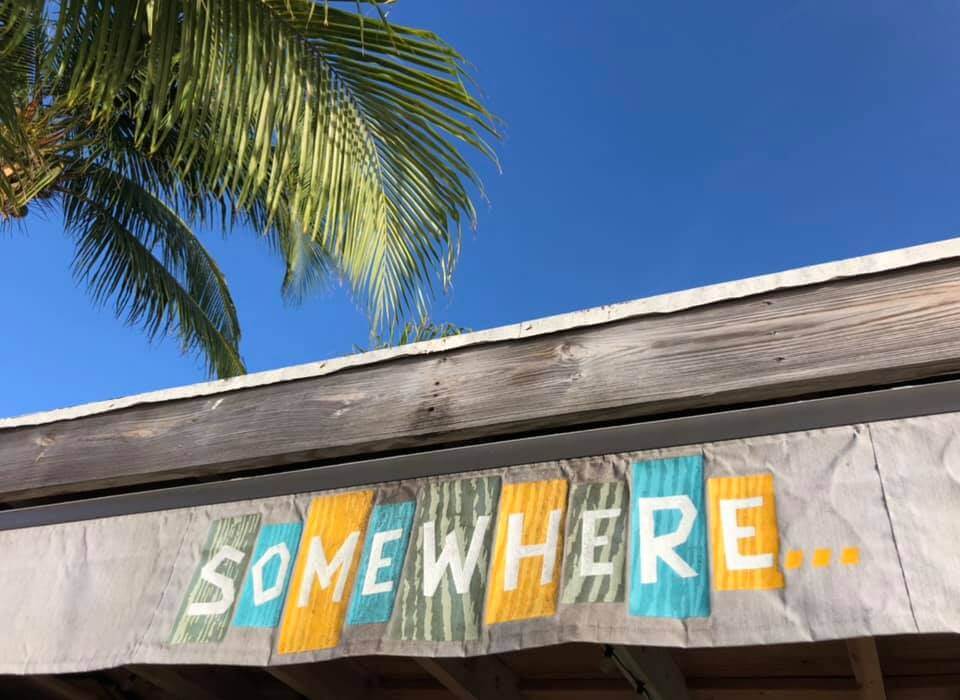 Restaurants near me
These restaurants are all close to Gracehaven Villas. Somewhere and Dune Restaurant are within 2 minutes walk of an evening. The other two are an easy three minute drive down to Turtle Cove.
Somewhere Cafe and Lounge
A great spot to dine right on the beach. 100 yards down the beach to the left. It is medium priced local fare. Live music on a regular basis and a great view of the sunset. Take your cameras! The sunset views are just great and people come from many other island areas to get sunset photos here.
https://somewherecafeandlounge.com/
Dune Restaurant
This is the restaurant at the beach side of the Windsong Resort. You can sit under the shade in the café/bar area or out on the patios between the pool and the beach. Limited menu and hotel pricing. Good service and a great to dine right on the beachfront. Recommend getting the breakfast cooked on the outdoor grill right by the beach
https://www.windsongresort.com/dining.html
Shark Bite Grill
Dine on the deck out over the harbor water. If you are lucky you can see 7-foot sharks swim by in the evening lights. Reasonably priced American, Caribbean and seafood with some fresh fish brought straight of the boats as they come in. Good range of Caribbean food too.
https://www.facebook.com/SharkbiteTCI/
Mango Reef
About 2-3 minutes drive at Turtle Cove. Turn into the marina parking area and the restaurant is on the left. A pricier more formal option. Lots of parking, nice waterside location, local flavours and sea food specialties.
---
Casual Dini

ng $$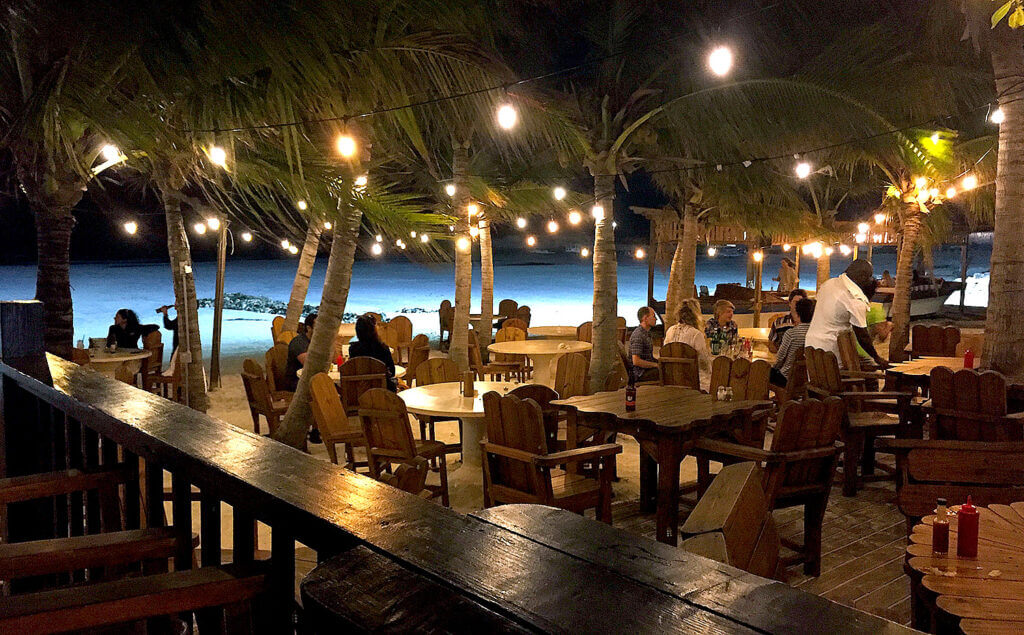 Mr Grouper
Fish restaurant along the road past Beaches and then turn second left and the restaurant is on the left. A great place for fresh seafood including their awarded conch chowder and plenty of local fresh fish. A street location with not much around it but good value and tasty.
Danny Buoys
On the main street in Grace Bay town centre on the right. You can't miss it. It's the busiest place and can be a little noisy on game nights as it's a sports bar. THE place to watch a live game. Value priced pub style food.
Shay Café
In Le Vele Plaza on the left as you go into Grace bay. Great place for a breakfast like eggs benedict or fruity crepes. Opens around 7.00 am and serves breakfast until 3.
http://shaycafelounge.restaurantsnapshot.com/
Bugaloos
More of a local feel to this great lunch spot in Five Cays. A little away from the usual tourist areas, you can enjoy a great value lunch and a cool beer right by the beautiful turquoise waters of the bay
Omar's Beach Hut
Also in Five Cays and on the beach , Omar's is a highly-rated diner with Jamaican and local Island cuisine. Extensive sea food options and they will cook your catch if you are just returning form a fishing outing. Like Bugaloo's, it is right on the beach and near the fish market where the local fishermen bring in the days catch.
Da conch Shack
One of the most well-known spots on the island for authentic local conch. This beach from eatery is on the shoreline in on Blue Hills Road. A landmark restaurant where the conch is served fresh in every way you can think of. The late musician, Prince, was often seen here when visiting his island getaway villa.
Kalooki's Restaurant
In Le Vale Plaza in Grace Bay, Kalooki's provides a good value Caribbean menu including Jerk Mahi Mahi, Tuna tartare, Caribbean Curried tofu. The name Kalooki stems from a Jamaican card game.
---
Mid- range / Contemporary – $$$
Baci Restaurant
On the canal front at Turtle Cove, there is a distinct Mediterranean flavour with various Italian dishes. Lots of open-are spaces including covered patios. Veal and pasta dishes as well as great pizza. Personal attention from owner, John, can always be relied upon
Magnolia Wine Bar
On the hilltop overlooking Turtle Cove Marina, the bar deck area is a romantic setting with great service provided by owners, Gianni and Tracey Caporucio. A varied menu includes NZ lamb, tuna and shrimp favourites and desserts to die for.
https://www.magnoliaprovo.com/
Las Brisas
Situated right on the shoes of Chalk Sound, Las Brisas has lots of open-air dining area plus a poolside bar and a gazebo right by the beautiful colors of the Chalk Sound waters. The menu offers tapas and Mediterranean cuisine with a Caribbean tint. There is love music and even the option of a boat tour of the Sound.
https://neptunevillastci.com/index.php/las-brisas-restaurant-bar/
Caicos Café
Caicos Cafe in Grace Bay Road near the main center features Mediterranean and modern Italian cuisine combined with Caribbean flavors. Chef Max Olivari's menu offers fresh local fish, hand crafted gourmet pastas, seafood specialties, BBQ meats and daily specials. Also caters for vegetarians.
Le Bouchon du Village
A French bistro in Grace Bay;s Regent Village frequented often by locals and resident. This restaurant has a plethora of the best local seafood dishes and French cuisine in the area. There are also vegetarian options available.
---
Fine dining – $$

$$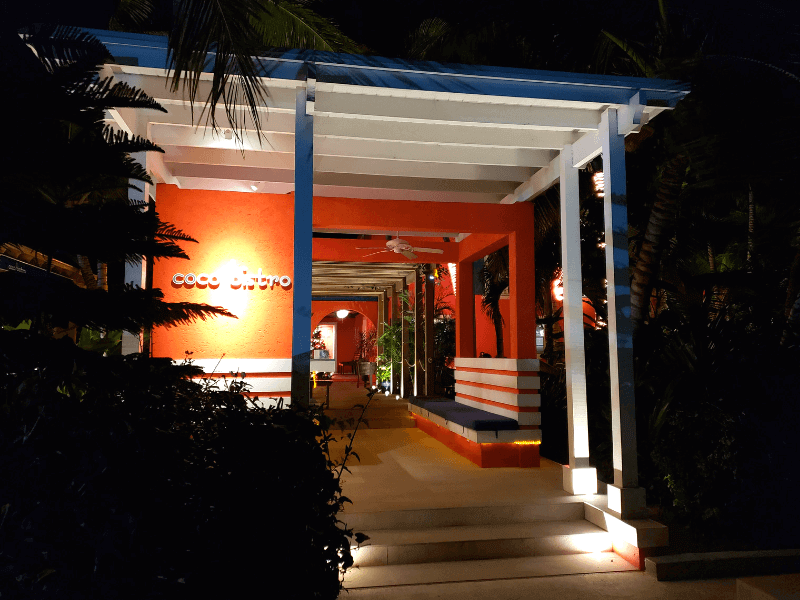 Coco Bistro
One of the more exclusive dining spots through Grace Bay town past the Garden Centre and tucked away on the right. Dine in the midst of a beautiful palm grove. Expensive and busy, may require a reservation well in advance. Excellent quality food. Plenty of lobster on the menu ( in season – Aug 1st – March 31st).
Hemingways
Restaurant inside The Sands hotel. Beautifully located on the seashore, it is one of the better options for a sunset dinner but also great for a nice lunch. A little expensive, but cheaper options can be selected on the menu and it is more reasonable before 6.00pm when you can still place orders from the lunch menu. Great fish tacos, mango shrimp and conch.
Infiniti Bar and Lounge
High end 5-star dining inside the Grace Bay Club. Beautiful and sophisticated setting where the staff will make you feel special. Features lanterns, fire pits and the 90 -foot long black stone bar with LED lighting that leads to the beach. A selection of Caribbean and seafood dishes perfectly prepared. Full menu menu only between 6.00 – 10 p.m.
https://gracebayresorts.com/gracebayclub/dining/infiniti
Coyaba
A very elegant retaurant near the Grace Bay Club. Enjoy your meal in a luch tropical garden setting. The chef / Owner Paul Newman has provided excelent quality food and service for over 20 years. The menu changes regularlybut will usually include classic steak dishes and also a range of spiced options such as Tandoori Salmon.
http://www.coyabarestaurant.com/
Grace's Cottage
Another really excellent option with excellent ambiance at Point Grace. Both the outdoor dining area and the interior space are especially elegant with wonderfully attractive architectural touches, teak tables and a mahogany bar inside. This is a dinner-only restaurant open from 6-10pm and serving a French style menu.
https://pointgrace.gracebayresorts.com/restaurant/graces-cottage-at-point-grace/
Need to find these dining spots?
Check them out in our Places to Visit map . Look for the brown dining icons.