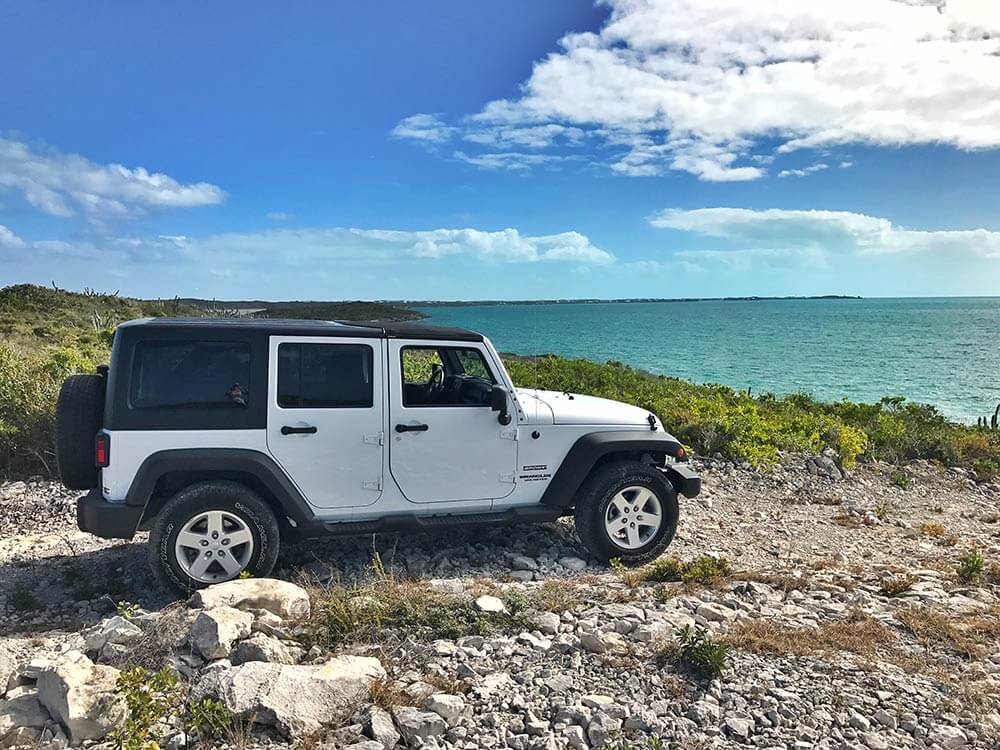 Providenciales airport car rentals
There are numerous options to rent a vehicle on Providenciales. Some companies are based at the airport but there are others that are dotted around the island in various locations. For the vacationing visitor it is most convenient to deal with a rental company that has direct contacts at the airport when you arrive.
There are several companies that have reception and booking desks at the airport and these are conveniently located right outside the exit to the customs area, just yards from where you pick up your baggage.
It is important to note that of the 4-5 reception desks in the airport, some of them have cars available right away by walking across the road to the parking lot while others have parking off the terminal and need to take you by a shuttle bus to the vehicles. So, making your choice of company to use is,as always, a balance between cost and convenience.
Rental vehicles
The pricing of the vehicles does not vary much between the companies. Prices start around $40 USD per day for a an economy car to $175 or more for a large SUV or van. As is the case in many areas the Avis vehicles are a little better quality and the rates are more expensive. The other end of the scale is Payless, which is cheaper, but you will often get a lesser standard vehicle. For instance, in Turks and Caicos the vehicles drive on the left-hand side of the road. This means the normal vehicles are RIGHT-HAND drive. However, there are many left had drive cars on the island which will then have you driving the car from the inside and making overtaking harder and less safe. Using a cheaper company may result in having a left-hand drive car.
Rental companies at the airport
Avis has off-site vehicles parked about 2 minutes shuttle ride away, as does Payless, Hertz and Thrifty. Enterprise and Grace Bay Car Rentals have vehicles parked in the lot over the road.
With a lot of people coming off planes at the same time there can be quite a wait at the booking desks. Things can get a little slow and the speed of service may not be what you are used to when renting elsewhere.
Grace Bay Car Rentals is a locally owned company that is a little more expensive $3-6 per day or so depending on the vehicle but their process is so much more convenient and smoother. An agent will walk you across the road, show you the car, and take a phone video to record the out-going condition. They will then take a credit card number for the payment and ask you to sign the forms and away you go. This is way more convenient than other companies where the staff are using PC terminals, adding info and waiting for rental agreements to be printed on old slow equipment.
Similarly, Scooter Bobs car rental which is the longest established rental firm on the island, provides a convenient process. Although they are based in Turtle Cove, they will deliver your chosen vehicle to the airport ready for you to just walk over and drive away. They offer a range of vehicles from economy cars to SUV's and vans and also rent scooters and ATV's from their office location.
In our view it is worth the few extra dollars to spend more of your precious vacation time doing what you want to be doing. But as always, the choice is yours.
Booking in advance is important at busy times such as Christmas season or March break as the number of vehicles in the fleets is limited and can get booked up.
The vehicles on offer range from very small little hatchback models with engines smaller than 1 000cc to large SUV's and a few vans. Most are automatic transmissions. Some smaller units have no power locks or power windows and take some getting used to. Many of the small-engined cars are very low powered and can be difficult to drive as a result. Traffic can run a little fast on the main Leeward Highway road. Larger sedans such a Toyota Corollas are also available as are Jeep 4X4's but again are at higher rates.
Depending on your needs you can obviously choose whatever suits your best. I find for a two-person party with luggage the ideal vehicle is a Suzuki Swift hatchback. These are relatively modern and have enough equipment and size to be a comfortable drive. Most are imported from japan and so have the steering wheel on the correct side for driving on the left.
Renting a Jeep in Turks and Caicos?
Sometimes, to visit the wilder parts of the Island, although not essential, a 4WD vehicle is helpful. Some of the rental companies have some 4WD SUV's like Jeep Wranglers which are ideal for the job. These include Grace bay car rentals, Rent-a-buggy and if you want to really travel in style then a customized Wrangler from Island Life Jeeps fits the bill.
You can book any vehcile through third-party web portals such as Expedia with no problem or direct with the local company. Here are some links.
Links to car rental companies in Providenciales:
Although there are several rental brand names you will recognize from other parts of the world, such as Avis, Hertz, Enterprise etc., the island has local companies the are essentially franchised operators working with those brands and may not be directly connected with the parent companies.