About Gracehaven Villas
We established Gracehaven Villas for our pure love of the Turks and Caicos Islands. After experiencing the beauty of the place in a very short 4-day Easter break visit several years ago we never looked back. From that time on it became our favorite place to be. Our mission is to ensure that all our guests feel the same way, appreciate the wonderful environment and love everything that the Islands have to offer.
After buying land in 2018 we set about creating a vacation experience that will be remembered for a long time and treasured in the memories of our clients. Having experienced for ourselves the delights of visiting Providenciales we hope that everyone who stays here can feel the same way as we do.
Gracehaven Villas Ltd operates Gracehaven Villas vacation rentals for you to enjoy your perfect vacation in TCI.
Gracehaven 1 is our first building which was just completed in 2020. A wonderful vacation villa destination in the Turks and Caicos Islands, BVI. This villa is a brand new construction which is just completing now. It is located on our villa development property which is less than 1/5 of a mile from the beautiful coral sands of Grace Bay beach.
Villa Owners
We are Jeremy and Trish, owners of Gracehaven Villas Ltd. We are original from the UK but emigrated to Canada in 2007 as our son was a hockey player at Notre Dame in Wilcox, Saskatchewan, home of many famous NHLer's. We have always been sun lovers and have previously owned property in the Canary Islands, just off the coast of Saharan Africa. Our summers in Canada have often been spent boating on the Great lakes. Jeremy loves to boat and fish. Trish is also the owner of her own ladies dress boutique in London Ontario.
We pride ourselves on exceptional client service and always work with our clients best interest at heart. We welcome any feedback or suggestions that we might use to improve our service and we'd love to hear from you.
Whether you have a booking with us or not, we are always happy to provide any advice we can to TCI visitors to help make their stays as good as they can be.
Jeremy is also the Moderator for the Turks and Caicos Islands Airbnb Host Community Group.
If you are thinking of visiting and need to know more about any aspect of the Islands feel free to contact us.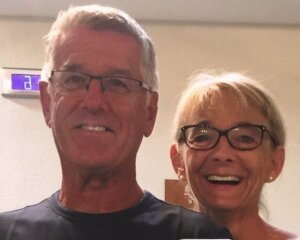 Jeremy and Trish Wiggell – Gracehaven Villas Ltd
Discover more about Turks and Caicos
Scenic Views Snorkeling Weather Beaches Car Rentals