Gracehaven Villas is pleased to tell you that from April 2022 onwards we now have kayaks available for our guests to use. We provide these as a complimentary free service for our guests.
Kayaking from the beach near the villas is a great activity. Typically the sea is calm on Grace Bay as it is protected by the coral reef from the Altantic waves. Although sometimes the waves can be too high to use the kayaks here, when the sea is calm you can even explore out towards the reef which is about 3/4 of a mile off the beach at the Windsong Resort, If you have a waterproof phone or a Go Pro camera you can take some great photos or videos in the clear TCI waters. You can be fortunate enough to see turtles, eagle rays, sting rays and a host of other marine life, all while enjoying the peaceful waters and tropical sunshine
We have two kayaks which are shared between the guests at both villas, so please be sure to check in advance with the villa concierge to see when they are available.
These neat single-seater kayaks are great for beginners with an sit-inside layout but an open design. They are fine for calm water use and can hold a person up to 250 lbs. The kayaks themselves weigh just 40 lbs and so can easily be moved around. They have a neat backrest for comfort and some tie-down elastics on both bow and stern ( posh nautical terms for front and back :)) to hold towels or other beach gear you may have with you. and we have paddles and lifejackets of course. Getting to the beach is no problem with our two small aluminum carts with large rubber wheels so you can wheel them easily along the street to the beach. The carts will fold and can be put in side the kayak while you are using it on the water or leave them on the beach under the steps.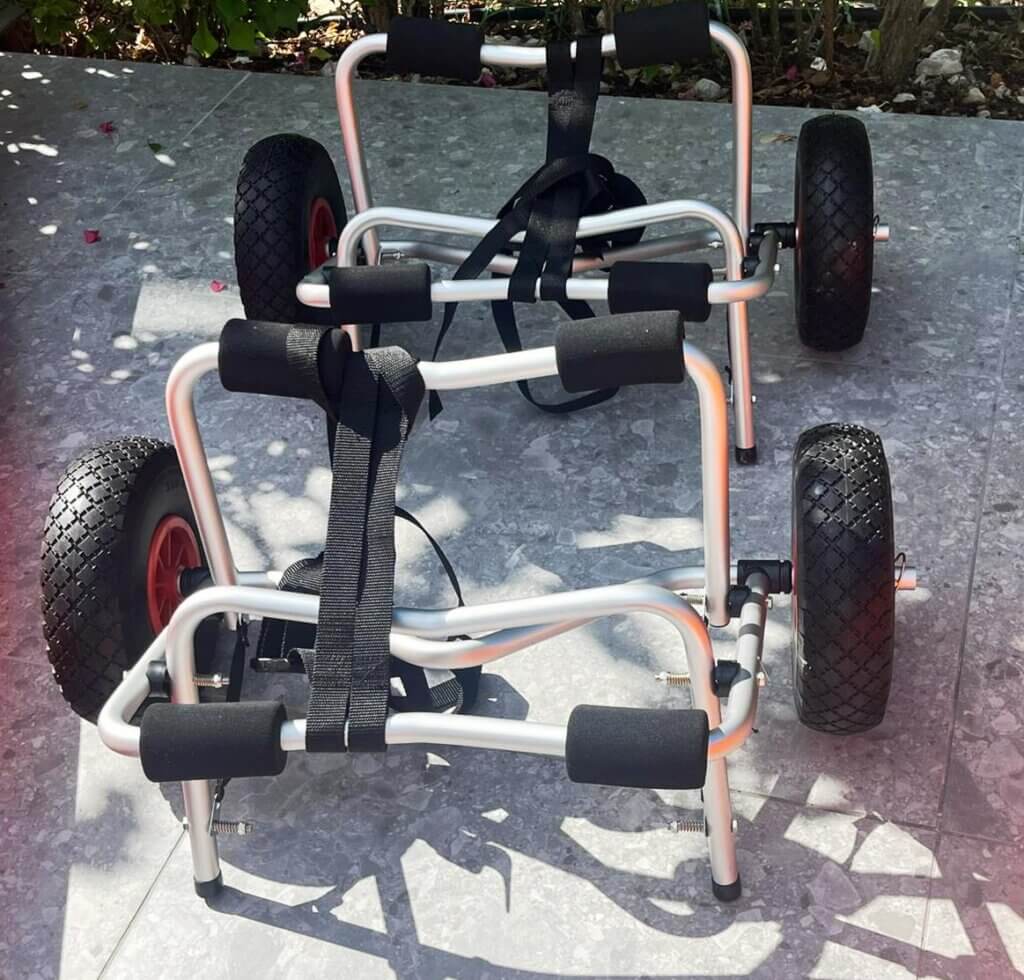 Of course we do need to point out when using the kayaks you must keep your own safety at the front of mind all the time. Naturally, we would not recommend that you kayak when there is a chance of rougher water or perhaps a passing storm. The wind can pick up vey quickly during tropical storms. Its a good idea to check the tide times if you plan to go out a little further towards the reef. It is much easier to get back to shore when the tide is coming in rather than going out. Also bear in mind the ocean may have some currents that can drift you along the shore too and be mindful of the wind too. If it is blowing offshore then paddling back can be harder as you will be going into the wind. If in doubt do no go far from the beach.
We hope that you get to take to the water soon and enjoy even more the beautiful Turks and Cacios waters from another perspective. Check now with our concierge for availability.