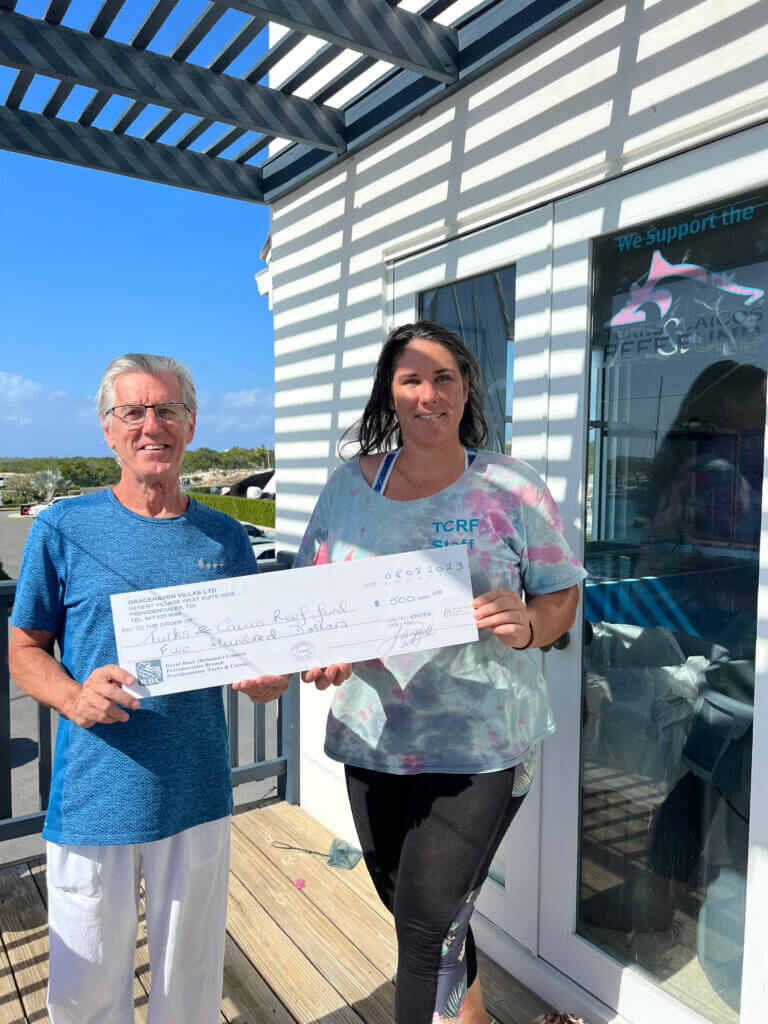 At Gracehaven Villas, we have a thriving vacation rental business and we are so grateful that our guests chose to visit our TCI properties to experience the stunning scenery and surrounding ocean waters
TCI owes so much of its beauty to the amazing coral barrier reef that created the islands and protects its tropical shores from the wider ocean conditions. The corals are responsible for the shallows of the Caicos Banks and their stunning turquoise waters, the exquisite white coral sand of our beaches and maintaining a myriad of healthy marine life. It is this array of wonderful sights that brings so many visitors to the Islands. These visitors are the core of any vacation rental business.
Yet these coral wonders are in a continuing battle for survival. Not just from rising ocean temperatures and the threat of pollution but also from encroaching diseases such as Stony Coral Tissue Loss Disease which threatens their very survival.
Gracehaven Villas decided we want to do what we can to help. Following a successful year in 2022 we decided to donate $500 for the year by way of thanks and to help the continued work of the Turks and Caicos Reef Fund. Not only that, but we are also making a continued donation going forward by purchasing a TC Reef fund charity bracelet for every one of our guests who stay at our villas. The proceeds will go to supporting the work of the Reef Fund and help to protect the reef life.
Jeremy at Gracehaven Villas Ltd is also the founding country leader for the Turks and Caicos Airbnb Host community Facebook Group and is urging all TCI Airbnb hosts and vacation rental owners to follow suit and make a similar commitment to the work of maintaining a healthy ocean environment. We ask those who operate businesses that benefit from the Islands beauty and indeed all those who read this post to donate whatever they feel they can. Please make your donations and share this post to show your gratitude. Thank you.
𝗗𝗼𝗻𝗮𝘁𝗲 𝗵𝗲𝗿𝗲- https://www.tcreef.org/donate
Donations can be made online via the TC reef fund website. For other information please contact Alizee Zimmerman. – Contact Alizee on [email protected] to talk about how!